DISCOGRAPHY HEINER SCHMITZ
Heiner Schmitz, Cologne Contemporary Jazz Orchestra feat. Veronika Morscher

"Tales from the Wooden Kingdom"
VÖ: April 2022 KLAENG 065
Personnel:
Trumpets: Jan Schneider, Matthias Knoop, Christian Winninghoff, Matthias Bergmann
Trombones: Paul Lüpfert (except 1 &2), Peter Schwatlo (1&2), Ben Degen, Andreas Schickentanz, Wolf Schenk
Saxophone, Flutes & Clarinets:Marko Lackner, Kristina Brodersen, Christoph Möckel ,Matthew Halpin (except 1&2), Tobias Haug (1&2), Marcus Bartelt
Guitar: Johannes Behr
Piano: Jürgen Friedrich
Bass: Volker Heinze
Drums: Alex Parzhuber

Vocals: Veronika Morscher

additional percussion: Joannie Labelle
additional Synths: Heiner Schmitz
All music written and arranged by Heiner Schmitz, except Track 11 "Winter Poem" written by Veronika Morscher and Heiner Schmitz
Lyrics & Poems written by Veronika Morscher (Tracks 2,4,9,10,11) and Heiner Schmitz (Tracks 6,8)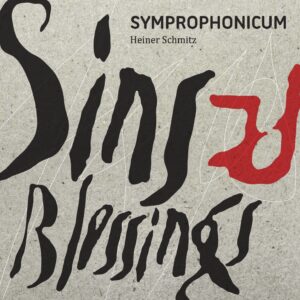 SYMPROPHONICUM Heiner Schmitz
"Sins & Blessings"
VÖ: September 2018, Wismart W112
Personnel:
Simin Tander (voc), Frederik Köster (tr), Stefan Karl Schmid (sax), Holger Werner (bcl), Tobias Wember (trb), Simon Seidl (p), Dierk Peters (Vib), Robert Landermann (b), Jens Düppe (dr), Lola Rubio (vln), Kelly Mitopoulou (vln), Martin Hauser (Vla), David Schütte (Vcl)
Music written, arr. and coducted by Heiner Schmitz
Cologne Contemporary Jazz Orchestra,  Christian Brückner, Frederik Köster, Heiner Schmitz
"ODYSSEE"
VÖ: April 2012, Bigband-Records, BIG 1004
Personnel:
Marko Lackner, Heiner Wiberny, Claudius Valk, Benjamin Steil, Francois de Ribaupierre, Marcus Bartelt (reeds), Jan Schneider, Christian Winninghoff, Ralf Hesse, Mathias Bergmann (Trumpets), Felix Fromm, Philipp Schugg, Andreas Schickentanz, Wolf Schenk (Trb), Tobias Hoffmann (Guit), Jürgen Friedrich (p), Volker Heinze (b), Jens Düppe (dr), Omid Shirazi (FX), Christian Brückner (Voice), Frederik Köster (Trp-Solo)
All music written, arr. and conducted by Heiner Schmitz
Wednesday Night Bigband plays the music of Heiner Schmitz
VÖ: 2006, Eigenvertrieb
Personnel:
Magnus Mehl, Holger Werner, Mischa Ruhr, Stephan Mattner, Stefan Pfeifer (reeds), Frank Wellert, Frederik Köster, Matthias Knoop, Jan Schneider, Ralf Hesse (trumpets), Klaus Heidenreich, Tobias Wember, Stephan Schiffels, Jörg Tetzlaff (trombones), Tobias Hoffmann (guit), Sebastian Sternal (p), Robert Landfermann (b), Jonas Burgwinkel (dr), Anke Beuth (voc), Bernhard Selbach (perc)
All music written/arranged by Heiner Schmitz
HEINER SCHMITZ NEWSLETTER

Subscribe and stay up to date with all the latest news and concert information.
We respect your privacy and never share information we collect. You can unsubscribe anytime.